WORLD OF ART
Laboratorium of Curatorial Practices
Season 11: 2007/08
July 21st – August 1st, 2008, Yerevan, Armenia
The 3rd International Summer School for art curators in Yerevan (July 21st – August 1st) is a collaborative project organized by The National Association of Art Critics of Armenia (NAAC) in cooperation with SCCA-Ljubljana, SCCA-Almaty in Kazakhstan and Beral Madra Center for Contemporary Art in Istanbul.
This year's summer school is comprised of a series of lectures, presentations and workshops that focus on issues related to the methodologies of curating, the role of the curator in the ever increasing globalization of the art market, strategies of representation and institutional structures in the contemporary art world.
The theme of the 2008 project Post-Socialism and Media Transformations: Strategies of Representation will focus on aspects of new media representation in the specific context of post-Socialism. The aim of the summer school is a research on transformations in the uses of media for artistic production and the mechanisms of representation in the artistic scenes of former socialist countries, with an awareness of ideological connotations of new media utilization.
Petja Grafenauer Krnc, independent curator and tutor of Laboratorium of Curatorial Practices 2007/2008, will give a lecture and lead a workshop about the problematics of painting in the time of new media. Dušan Dovč, SCCA-Ljubljana's production manager, will present achievements of World of Art School of Contemporary Art, and give a talk about programmes of SCCA-Ljubljana with emphasis on video art.

Weekly meeting of Laboratorium
in SCCA Project Room, 2008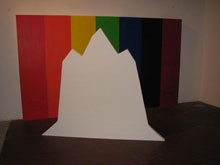 Mircea Nicolae, exhibition Google Tourist, 2008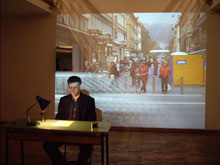 LabSUs, Personally;
Exercise for the End of the World,
performance of Marko Košnik, 2007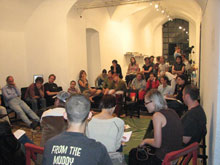 LabSUs, open platform of curators,
artists, writers, theoreticians, 2007