Print!
Exhibition of art editions, opening lecture (Dorothee Richter)
March 15–25, 2012
MGLC, Pod Turnom 3, 1000 Ljubljana
Thursday, March 15, 2012 at 7 p. m.
---
Artists: Brigit Brenner, Dani Gal, Guerilla Girls, Clare Kenny, Lucie Kolb, Monochrom, Ana Roldán, Shirana Shahbazi, Riikka Tauriainen
Prepared by: Saša Nabergoj
Assistents: Simona Žvanut, Miha Kelemina
---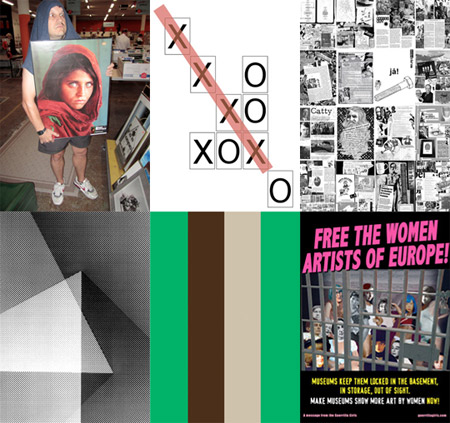 Source: Editions – Ready to Print 13
About the exhibition
Saša Nabergoj prepared for the exhibition Print! selection of art editions of the project Editions – Ready to Print 13 (16 x A4) = A0 x 13 and presented them in the exhibition space of International Centre of Graphic Arts in Ljubljana. This study exhibition intends to open issues connected to questions of democratic model of art distribution and will establish dialogue wit conceptual art and lost 'aura' of the author – artist. At the same time it will question the role of the curator and his power-position and professional competence in the world of art.
Concept of the project Editions – Ready to Print 13 (16 x A4) = A0 x 13: Dorothee Richter, Andrea Roca with Milena Brendle, Chantal Bron, Melanie Buechel, Jeannine Herrmann, Amber Hickey, Sonja Hug, Garance Massart-Blum, Candida Pestana, Corinne Rinaldis, Dimitrina Sevova, Lindsey Sharman, Catrina Sonderegge
---
Accompanying program (pdf)
[only for participants of 14th year of World of Art, students of the post-graduated program in curating from Zürich and participants of school for contemporary art journalistic critiques in Zagreb.]
Saša Nabergoj with Majo Alibegović, Majo Antončič, Lenko Đorojević, Jasno Jernejšek, Miho Kelemino, Darijo Kovačič, Nino Skumavc, Nino Sotelšek, Denisom Volkom
Design: Maja Alibegović
---
Opening with accompanying event
Dorothee Richter: Artists and Curators as Authors – Competitors, Collaborators, or Teamworkers?
Thursday, March 15, 2012 at 7 p. m.
MGLC, Ljubljana
Dorothee Richter will question artistic and curatorial authorship and will try to place it in broader historical frame. Are artists and curators competitors at taking the grants for authorship in contemporary art? Did curators adopted the process of artistic self-organization? If they really did, what are the consequences? Are artists and curators co-workers on the field which is little undefined and more flexible and open as such?
Lecture will be in english language.
More about the lecturer
>> Read the lecture
---
---
---
>> Fotografije in kritika razstave
---
Production: SCCA, Center for Contemporary Arts
Co-production: Postgraduate Curatorial studies of Institute Cultural Studies in the Arts (Zürich Art University)
Supported by a grant from Switzerland through the Swiss Contribution to the enlarged European Union.