Twenty Years of World of Art, School for Curatorial Practices and Critical Writing
World of Art | School for Curatorial Practices and Critical Writing | Year 16
---
9 – 26 May 2017
Opening: Tuesday, 9 May 2017, at 8 pm
Škuc Gallery, Stari trg 21, Ljubljana
---
Artists: Rene Rusjan, Blaž Miklavčič
Curators: Lenka Đorojević, Miha Kelemina
Assistant: Lara Plavčak
The exhibition was prepared and realized with the help of the participants of the World of Art School, Year 16: Urška Aplinc, Živa Brglez, Maja Burja, Anabel Karolyn Černohorski, Magdalena Germek, Anja Guid, Nika Ham, Ajda Ana Kocutar, Iza Pevec, Adrijan Praznik, Nina Tepeš.
---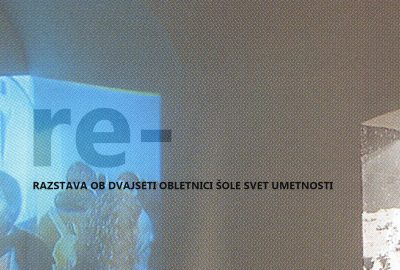 You are kindly invited to attend the opening of the exhibition re-, an exhibition on the occasion of the twentieth anniversary of the World of Art, School for Curatorial Practices and Critical Writing, on Tuesday, 9 May, at 8 pm in Škuc Gallery.
The World of Art School started in 1996/97, at the same time as some other formal and informal international education programmes. It was conceived as a series of lectures on contemporary art and as a course running over several months, which made it possible for the participants to conceive and under the mentorship prepare an exhibition of contemporary art. Ever since its inception, the school, the successor to the course, has been characterised by its flexibility and responsiveness to the needs of each particular generation.
The exhibition situates the material and the artworks in different temporally scattered relations while their juxtaposition is meant to encourage a consideration of their content-related and material nodes.
The prefix re-, which acts as the title of this exhibition, may originally denote a return to the past, but, at the same time, it also connotes encompassing and transforming everything that is a matter of the past into a matter of the future.
---
Accompanying events
– guided tour of the exhibition on Wednesday, 24 May, at 6 pm.
---
Production: SCCA–Ljubljana / School for Curatorial Practices and Critical Writing
Coproduction: Škuc Gallery
Exhibition is supported by: Municipality of Ljubljana – Department for Culture, Ministry of Culture of Republic of Slovenia
Sponsor: Apcom, d. o. o.
Acknowledgements: Ida Hiršenfelder (MG+MSUM, Mrežni muzej), Bojan Stefanović, CONA | institute for contemporary arts processing, National Gallery