World of Art | School for Curatorial Practices and Critical Writing | Year 16
---
Participants will in the form of group work and under the mentorship of curator Alenka Gregorič and artist Miran Mohar prepare and set up their final exhibition. Curatorial course will be accompanied by a series of modules on practical work.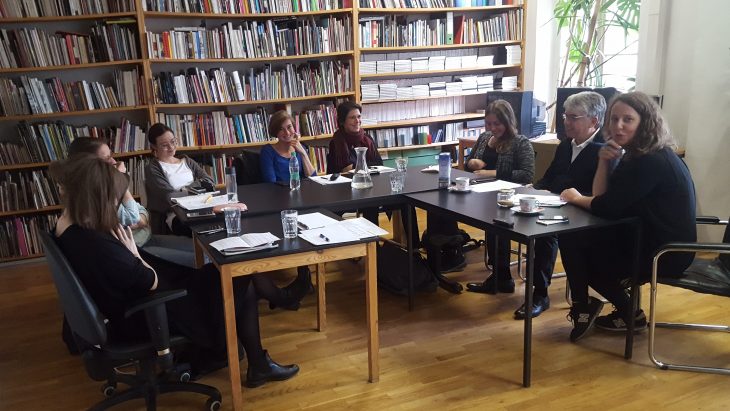 ---

Miran Mohar (1958)
Painter, designer and set designer based in Ljubljana. He is member of the Irwin artists group and co-founder of the Neue Slowenische Kunst movement, the graphic design studio New Collectivism and the Scipion Nasice Sisters Theatre. He is also a lecturer at the Academy for Visual Arts Ljubljana, it's vice-dean and co-founder of Maja Farol movement for open architecture.

Alenka Gregorič (1976)
Art historian, curator and writer. Since July 2003 till 2009 she worked as artistic director of Škuc Gallery, Ljubljana, curating, organizing and coordinating all the program activities. From 2009 she has been the artistic director and curator at City Art Gallery Ljubljana and CC Tobacco 001 (both part of Museum and Galleries of Ljubljana). In 2009 she was curator of Slovenian pavilion at Venice biennial and co-curator of 28. Graphic biennial Ljubljana, in 2011 she was co-curator (with Galit Eilat) of the 52nd October salon in Belgrade, in 2014 one of the curators for the Curated by_Vienna. She curated over fifty solo and group exhibitions in Slovenia and abroad. These shows featured works by artists such as Vuk Ćosić, Jan Fabre, Omer Fast, Harun Farocki, Vadim Fiškin, Irwin, Jannis Kounellis, Rabih Morue, Ivan Moudov, Marjetica Potrč, Mladen Stilinović, Raša Todosojević, Bill Viola, Katarina Zdjelar and many others. In addition to curating exhibitions she has written numerous essays, reviews and articles for various artist books, catalogues and other publications. The responsibility of those producing contemporary art and of cultural institutions, as well as their role in contemporary society, constitute the focal point of her interests.