Curating–In–Depth 2: Manila
World of Art | School for Curatorial Practices and Critical Writing | Year 15
28 July–7 August 2015
Manila, the Philippines
---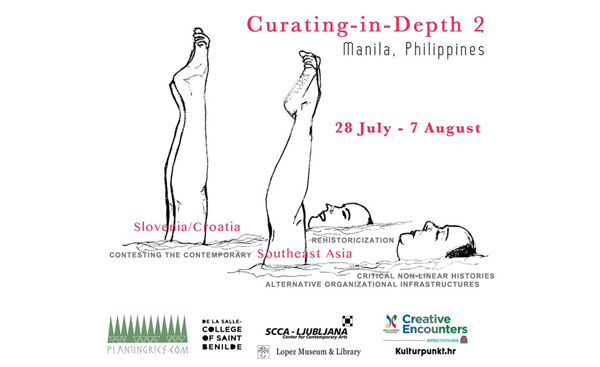 The first phase of the Curating-In-Depth, a project prepared by SCCA–Ljubljana, Planting Rice (The Philippines) and Kurziv (Zagreb), is concluded. It provided a two-week immersion in the Slovenian contemporary art scene for six curators from Myanmar, Singapore and the Philippines.
The second phase of the project will soon be underway. This phase, which will include a two-week study excursion of Slovene and Croatian participants to the Philippines, will take place in Manila from 27 July to 8 August 2015. SCCA team Barbara Borčić, Dušan Dovč, Miha Kelemina and Simona Žvanut and Kurziv representative Antonija Letinić will visit Manila, where they will learn about filipino contemporary art scene and art organisations. They will also meet Manila based artists, working in the field of contemporary art.

Beside the programme, prepared by Planting Rice, which will introduce us to the referential art spaces in Manila, a public programme, which will include curatorial mapping, lectures, round table and discussion will take place. Representatives of Slovenia and Croatia will prepare presentations of Slovenian and Croatian art system and art scene. Presentations will focus on the specifics of our art system, which distinguishes between public and private operation, but not as much public and private financing, and on the case of educational programmes for contemporary art and curatorial practices.
In addition to the presentations a video screening of selected video works from the history of Slovenian video art, entitled DIVA Station_presents, with coments by curator will be shown.