Saša Nabergoj is lecturing on 23th Corso Curatori in Venice
World of Art | School for Curatorial Practices and Critical Writing | Year 15
June 16–18, 2015
The School for Curatorial Studies Venice, San Marco 3073, Venice
---
Saša Nabergoj will be the guest lecturer on the 23rd Corso Curatori, summer School for Curatorial Studies in Venice. She will held a lecture on her curatorial and educational credo, on many years of experience in the field of curating of contemporary art and will therefore present, in detail, Slovenian art scene and Slovenian visual artists.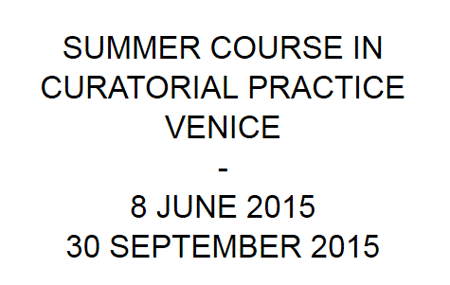 The lecture, which will be accompanied by numerous examples from the world of art, will take place within the first module in which history of curating and history of the art exhibitions, exhibition design and display will be discussed. The programme will consider how the specific forms of exhibition and curatorial practices have evolved and how exhibitions and curators participate in the development of various theoretical art-historical and sociopolitical contexts.
The School for Curatorial Studies in Venice was formed in 2004 and was conceived as a school, committed to experimentation and interdisciplinary thinking. It is intended for the dissemination of knowledge in the field of visual arts, it focuses on contemporary curatorial theory and practice and on contemporary museology.
---

Saša Nabergoj is an art historian, curator and critic. Assistant director at SCCA−Ljubljana, Center for Contemporary Arts (Slovenia). A member of AICA (International Association of Art Critics) and IKT (International Association of Curators of Contemporary Art, Amsterdam). Writer, editor, curator and lecturer on contemporary art, focusing on curatorial and critical practices.